Featured Stories
Cambodia's National Disease Hotline in Action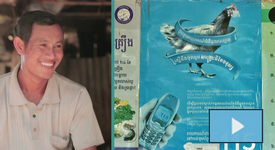 Watch this impact video about the 115 National Disease Hotline. In rural Cambodian many people sustain their livelihood through farming, and human to animal contact is a daily occurrence. What happens during a potential outbreak?
About the iLab Southeast Asia
Watch our 90-second animated introduction about the creation of the InSTEDD iLab in Southeast Asia.
Capacity Building at the iLab
The team in Phnom Penh is adding new skills and sharpening its design approach with advising from the Bridgespan Group.
Recent Work
The InSTEDD iLab's current focus areas include Design Events and Prototyping, Mobile Tools and Platforms, Information System Architecture and Connectivity Solutions for Diagnostics
Read more »
Digital Innovation to Slow Outbreaks in Cambodia
The CDC in Cambodia is responsible for national reporting of disease spread and alerting necessary authorities in case of outbreaks. InSTEDD empowering a transition from paper-based reporting to early detection with open source mobile tools and platforms.
'Go Green' App Launch
The 'Go Green' app was successfully launched. View the photo essay to learn more about the Go Green app, and to check out more about the day's exciting events.  Continue»